Going on vacation? Moving? Need a pet sitter for the day? Let Shaver Road Animal Hospital take the worry away! Our affordable boarding and daycare services are veterinarian-supervised and care is provided by attentive, highly-trained team members. They will watch after your pet as if it were their own and should your pet have an emergency while in our care, our doctor is just steps away.
Dog Boarding
Our dog daycare and boarding facilities are clean, comfortable, and temperature-controlled. All canines in our care receive lots of attention, exercise, and socialization, along with hours of playtime in our securely fenced in back yard.
Dogs are required to be current on core vaccinations including bordetella (kennel cough) and well as an annual heartworm test and fecal exam on file. We also recommend that you make reservations early—our facilities book up quickly!
Cat Boarding
Our comfortable, well-blanketed, quiet cat rooms are a hit with our feline guests, and, as a bonus, they are always given ample daily play time in our large treatment room. Our boarding staff will also make sure your cat gets plenty of attention, stimulation, and socialization while you're away.
Cats are required to be current on core vaccinations, and our cat rooms book up quickly, so get your reservations in early!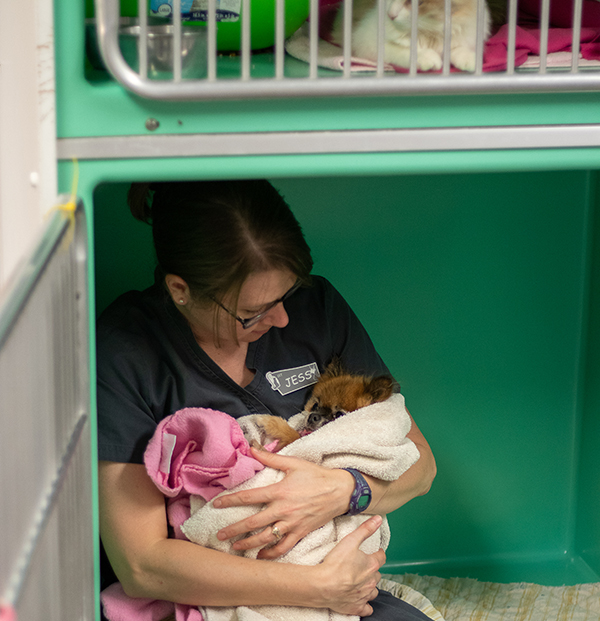 Special Needs Pets
We always welcome pets with special medical, physical or emotional challenges. Our staff is trained to accommodate and address those needs, and you will have peace of mind knowing that your pet will be under the watchful eye of our veterinarians while you are away. We also have a hospitalization ward where your pet will be closely monitored by our veterinary technicians should any medical emergency arise.
Drop off and pick up times are the same as our regular hospital hours:
Monday, Wednesday, Thursday, & Friday: 7 a.m.-5:30 p.m.
Tuesday: 7 a.m.-7 p.m.
Weekends & holidays: 8:30-9 a.m. and 5-5:30 p.m.
For more information or to book a stay for your pet, call us at 269-323-2831